About us
Perccare was established in 2002 with the objective of providing High Quality Products and services to customers. We help people clean the clothes in a best possible way by reducing their processing time, energy and giving perfect finish.
History
Perccare history started back in 1981 with a partnership firm and both the partners having technical background started making Machine Tool related automatic machines. At that time very few people uses imported textile machinery. Both the partners started repairing Textile Machines and gained lot of knowledge and ideas from these machines.
In 1990 the company started manufacturing their own Laundry Machines and in 1993, the company manufactured its first Perc Dry cleaning Machine in India.
In 2002, both partners decided to part their ways and do business individually. Then a new Proprietorship company named Precision Fabricating Engineers was born. We started making vast range of Laundry machines from washing to finishing.
With the inclusion of new generation General Manager in 2005, the company gained new momentum. We started using CAD/CAM software's to simulate and design new machines, in-house designing of electronic control cards, panels and other automation related circuitry.
In 2011, we started using CRM to manage our accounts and sales network. In recent years, through independent research and development, we have successfully provided large quantities of high quality Laundry equipment's with efficient production and low cost. Nowadays, we are increasing our product base and searching for new export markets.
Our Products
Our products are mainly divided in three categories:

Basic or General models used regularly with standard warranty.
Heavy duty models with extra warranty and longer life.
C series models which are outsourced.
Our product range includes: Perc Dry cleaning machines, Washing Machines, Washer Extractors, Hydro Extractors, Tumbler Dryers, Steam Presses, Ironing Tables and Electric Boilers.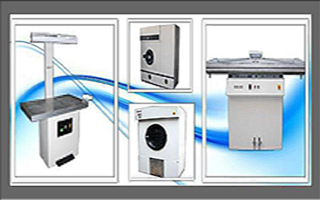 Services
We devote ourselves to engineering services by incorporating R & D, manufacturing, erection and commissioning into one role. With strong technical integration ability, we dedicate ourselves in providing first-class Laundry and Engineering solutions for customers, and are capable of undertaking large Laundry projects. Some of our services are:
Provide onsite infrastructure construction guiding, production line layouts, erection and commissioning, training, processing service and after-sales service.
Providing AMC to exporters and limited firms having large hosiery processing and finishing setups for Equipment maintenance and operation.
Buy/Sell all kinds of Second hand Hosiery and Textile Finishing Machines.
Provide solutions for all kind of old manual machines to upgrade them to fully \automatic by using modern microcontroller technology, HMI's and PLCs.
Call us for suggestions to install new machinery or finishing units. Our support staff provides you with sound engineering support and helps you with design, implementation and operation based on real world experience. In fact our most successful markets have been developed by accepting our customer's needs, and then by working in conjunction with them through to a successful conclusion.
Quality Policy
The company is dedicated to the quality policy based on the following fundamental principles:
High level of customer satisfaction at all times by constantly listening to th e customer and providing on time, error free and fit for use products and services.
Consistent and continuous quality improvement
Provide a work environment and culture, which promotes initiative, innovation and teamwork.
Innovative, cost and time effective services.
Providing Timely Technical Support.
Protection and Advancement of Environment